←

back to deals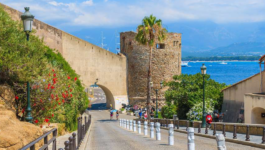 Two islands, so different, so intriguing. One Italian, one French, both fiercely independent.
Visit 3,500-year-old huge stone 'Nuraghe'  Tower villages, cruise to the beautiful Neptune's Caves, enjoy stunning cliff top coastal drives, take 4WDs deep into rugged ravines for a shepherd's picnic lunch.
Visit colourful Bosa, 'bandit' Orgosolo, Catalan Alghero, the exquisite Costa Smeralda, the staggering cliff-top town of Bonifacio, Napoleon's Ajaccio and…best of all…3 nights in remarkable Su Gologone.
Explore the sights of Cagliari, take in the views from the Bastione di Saint Remy, and see the pink flamingo colonies
Stay 2 nights in the heart of the exotic 'Catalan' town of Alghero
Visit Nuoro, and drive past fields and fields of Nuraghe ruined towers
Cruise to the spectacular Neptune's Caves
Stay 3 nights enjoying the extraordinary Su Gologone 'Sardinian Experience'
Explore the 3,500-year-old Su Nuraxi – mysterious Nuraghe rock towers
Take a 4WD tour into the Supramonte Mountains and savour a shepherds picnic
Explore the bustling resort town of Porto-Vecchio & enjoy 'My Time' in the extraordinary cliff-hanging, citadel town of Bonifacio
Stay 2 nights in Napoleon Bonaparte's Ajaccio
Relax amongst the 16th-century streets of charming Sartène
Visit the house where Napoleon lived
Relax in L'ile Rouse and enjoy a tasting of local produce & wine in Calvi
Earlybird Sale
Save $700 per couple
Book and deposit on any Albatross 2019 Europe & UK Summer tour by 31st October 2018 to receive a $350 per person discount off the tour price. That's a saving of $700 per couple!